The SpiderForest Webcomic Collective is pleased to announce the
Kickstarter launch
of its first-ever comic anthology!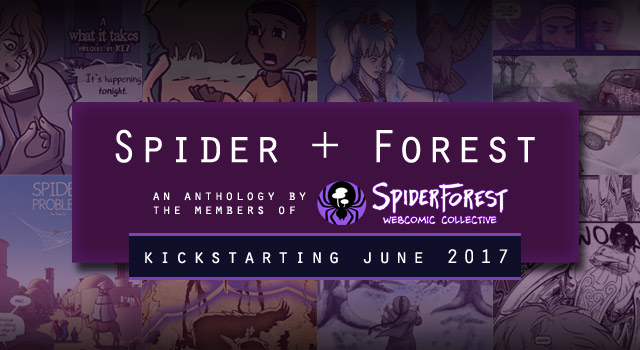 Collective members were challenged to come up with short stories incorporating spiders and forests. The result? A full-color, 130-page anthology featuring twenty standalone comics, in genres ranging from fantasy to cyberpunk, from the apocalyptic to the surreal.
Founded in 2004, the SpiderForest Webcomic Collective is made up of over 70 actively-updating webcomic creators spanning numerous countries and diverse genres. From the beginning it has been a member-run collective, staffed by volunteers, with the goal of promoting and encouraging each other, sharing resources, and creating a supportive atmosphere both for members and for the webcomics community as a whole. Recent projects include a collective coloring book, a public podcast on the craft of making webcomics, and now, a comic anthology.
The Kickstarter campaign to fund offset printing of the anthology will run from June 20th to July 14th. Apart from the book, it features a variety of custom rewards from SpiderForest creators: custom art, sketch editions, cameo appearances, and a Kickstarter-exclusive enamel pin featuring the collective's "comic spider" logo.
Check out more details about the anthology, the stories, and the creators on the
Kickstarter page
!