Hello everyone.
I'm announcing a contest today to win some free stuff!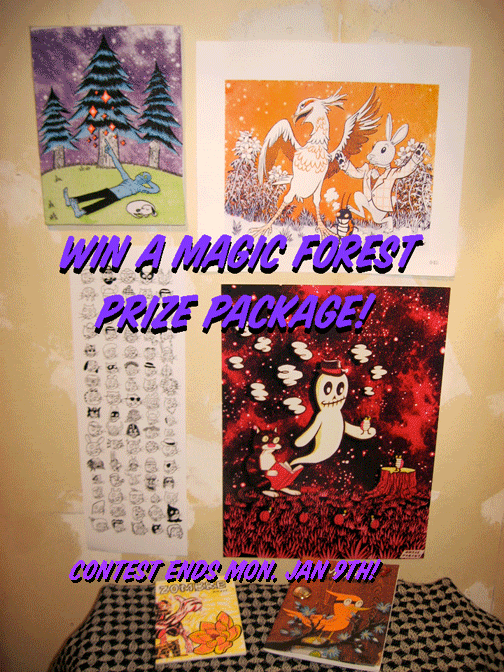 Win a MAGIC FOREST prize package!
The grand prize winner gets:
The new five-color ZOMBRE silk screen print (canvas mounted on wood, edition 6 of 30)
Two-color silkscreen MAGIC FOREST print (edition 42 of 125)
EIGHTY CAT HEAD digital print
MAGIC BUG BOOK digital print
ZOMBRE #1 (out of print)
ZOMBRE #2 (2010 Xeric winner)
These items are signed by me.
This prize package also comes with a real 24 karat gold ZOMBRE button!
Second place winner gets a print and a copy of ZOMBRE #2
Third place winner gets a copy of ZOMBRE #2
The rules:
1. Go to:
http://www.ansis.tv/magicforest/mf/?page_id=830
2. Find the "Secret Message" which is posted somewhere whithin the comics pages posted.
When you find it, send me an note through my website's contact form with the Secret Message's
panel and page number.
I'll contact the winner and ask for a mailing address.
Contest ends Monday, January 9, 2012.
You can read MAGIC FOREST weekly here:
http://www.ansis.tv/magicforest/mf/