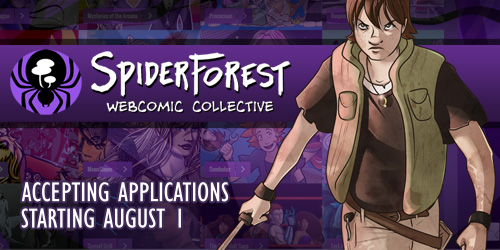 I'm Kez, one of many admins over at
SpiderForest
. SF is a webcomic collective run for and by webcomic creators. I've been there 10 years now, and it's an awesome group to be a part of.
Every 6 months or so, we accept applications for new members. I'm here to spread the word! Applications are accepted until August 22nd.
Details about applying, perks and responsibilities of membership, and any requirements of applicants can be found
here
.
FAQ about why we require applications, how to write an application, and what we consider important about applications can be found
here
.
Current comics in the collective can be found
here.
If you have any questions, please let me know! Hope to see you around the 'Forest.