Penciled full page format
The website was hosted on an angelfire website, I think
It's about a thief who tried to steal something (like a magical jewel?) and a knight who stopped him from doing that. They end up stuck with each other because of a special curse collar that was designed for prisoners (I'm pretty sure it was by accident). It prevents them from getting too far from each other and attempts to remove it shortens the distance. They have to go find a way to remove the collars before something bad happens, like they fuse into one person or something freaky like that.
The Duran (?? I am sure it started with a "Du") guy grew up in poverty and learned to be a street smart master thief. The clueless guy (name has an "E" in it?) on the right is a naive pretty poster boy, like the perfect knight. These guys are polar opposites. (Blond guy's eyes were either blue or brown and hair was more poofy like a curly afro)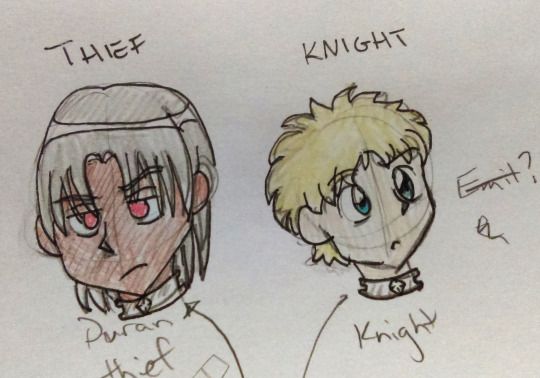 At one point in the story, they are captured and kept in jail. Something happens with the collars and they switch bodies for a bit. The collars also change their appearance as the curse progresses.
The name of the comic, I can't remember but it was two words, like "Midsummer Eve" or something, I am totally blanking here.
The creator team consisted of the writer and the artist and they were friends. And sounded like they were in high school at the time. Which I think was around 15-18 years ago??