I've been a webcomic artist for about a year now have struggled with getting more views and trying to increase my audience, just like everyone.
But I keep plugging away at it and doing my best and then I saw this on facebook the other day and...it really bothered me.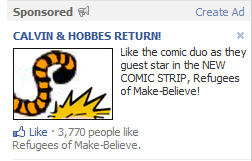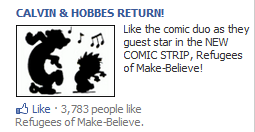 Not just as a Calvin and Hobbes fan, but the sense of false advertising and just the general promotion of Calvin and Hobbes instead of the artist promoting his own comic.
Its kind of low to end up doing stuff like this as its just piggybacking on someone elses success instead of trying to earn some on your own merits. I've never been a fan of seeing Calvin and Hobbes used outside of Wattersons world(The infamous Calvin "urinating" car stickers always make me shake my head), but don't complain when I see others artists do homages to them.
I think in a way we all strive to be like Watterson and create a rich colorful world filled with adventures big and small and characters who are larger than life in their own ways for everyone to enjoy.
Which makes this ad all the more upsetting to me when I think about this ad...I mean the guy even just copy and pasted some of Wattersons artwork for the ads themselves.
Not sure if anyone elses agrees with me, but I really just felt the need to share this with other webcomic artists.