Sorry it took me so long to reply. I don't have a lot of time lately.
So, an example of multiply layer. A bad one, because my brush control still sucks and I don't have the time to lay out the kind of thing Kail deserves.
As a caveat, I should point out that I use a lot of layers. I use different layers for every element of the process (pencils, ink, color, shading, highlights), and I use extra layers for effects and for the simple fact that I have no line control and often have to use a layer just so I can erase crappy work without endangering hours of labor.
That being said, here is my example of simple shading using multiply/screen. It's not as artsy as the example above, but I think it serves as an example that multiply is not simply a cel-shade technique if you have a passable eye and know what you want.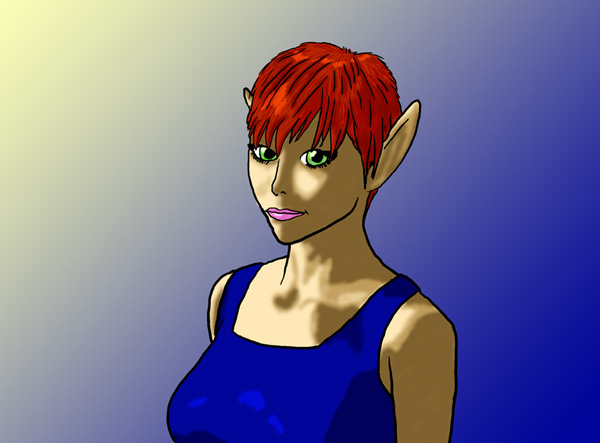 Okay, to begin, I plan my shading while I'm pencilling and still looking at my model. I do this by hatching where I want shadows (in a different color than my line pencils). Once my color layer is in, I create a shadow layer and a higlight layer on top of it.
I use different brushes depending on what I'm shading. I find an airbrush setting works well for skin, since it usually carries diffuse shadow edges. For hair, I use an air brush for general shading, and a pressure-to-thickness brush for details. And so on, depending on the surface material.
For the shadow color, I have to admit, I do not subscribe to the cool/warm philophy because it's pure bullshit. Shadows are the result of the dominant object color combined with the color of the ambient light. Highlights are the result of the directional light source and any surface (specular) colors in the object. For most surfaces, I use a 50% Black variation of the base color for the main shadow (that is, the shadow I mapped out earlier on my pencil work), and a 75% version for any secondary shadows. For every percentage point I go down in lightness, I go up one in saturation.
Highlights depend on the surface of the object. I tend not to highlight skin, because hightlights, especially hard ones, make th skin look waxy or greasy (the example above, with its blue skin and waxy highlights, looks to me like a drowning victim). Again, I use the base color as my guid, and alter the lightness and saturation to create the highlighting effect I need, more or less reversing the selection process for shading.
Again, any hard edges or errors in the shading of my example are the result of my own issues with brush control. I'm getting better, but Ihave a long way to go. They are not the intrinsic result of the multiply method.
_________________
Casual Notice--commentary, comics and an appreciation for snappy hats.
S*P*Q*R